Childcare Offer – Small Grant Scheme Virtual Information Session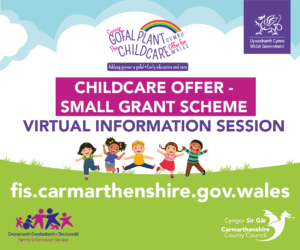 Grant Opportunity
Are you a Registered Childcare Provider in Carmarthenshire offering the Childcare Offer for 3 and 4 year olds?
If so, you can apply for the Childcare Offer Small Grant Scheme. The grant has been awarded to Carmarthenshire County Council through the Welsh Government's Capital Grant, with grants up to £10,000 available for Childcare settings including; childminders, afterschool clubs, cylchoedd, playgroups and day nurseries.
The grant will help Registered Childcare settings to develop the number of childcare places they are able to offer and help improve the quality of their facilities under the Childcare Offer.
We are pleased to announce that we will be holding a virtual information event on Thursday 23rd September at 6pm.
If you are interested in finding out more about the Small Grant Scheme, how to apply and what you can apply for you, then this is the event for you!
If you are interested in attending this event, please confirm your attendance by Tuesday 21st September by emailing:
smallgrantscheme@carmarthenshire.gov.uk
The FINAL closing date for submission is Friday 8th October 2021.
The Grant forms and Guidance are available on fis.carmarthenshire.gov.wales however if you have any queries please contact the Family information Service on 01267 246555 or e-mail smallgrantscheme@carmarthenshire.gov.uk