Childcare Offer to re-open
Childcare Offer for Wales to re-open
The Childcare Offer which provided eligible parents with up to 30 hours of Government funded early education and childcare for their 3 & 4 year olds was suspended in April.  This was to allow resources to be refocused, to support the childcare needs of critical workers and vulnerable children through the Coronavirus Childcare Assistance Scheme (C-CAS).
As lockdown restrictions start to ease and with schools set to return from September, the Offer will reopen for applications enabling eligible families to start accessing the funded childcare.
The application process for parents/carers during August and September
Parents who would have been eligible for the Offer in the summer term (children who turned 3 between January 1st and March 31st, 2020), but who missed out on a full term because they had not started taking up the Offer before the pandemic, will be able to take up the Offer from the start of the autumn term in Carmarthenshire, if still eligible. Applications for these children will be open on Monday August 10th.
If families had already been accepted for the offer previously, the Ceredigion Childcare Team are in the process of contacting parents for their updated information.  Parents do not need to complete the whole application again.
Parents who had not applied previously will need to complete a full application.
Parents whose child becomes eligible for the Offer in Carmarthenshire from the autumn term (children who turn/turned 3 between April 1st and August 31st, 2020), will be able to apply from Monday 21st September and can take up a funded place once Ceredigion Childcare team has processed their application following eligibilty checks.
Parents of autumn term children will not be able to apply before the 21st September.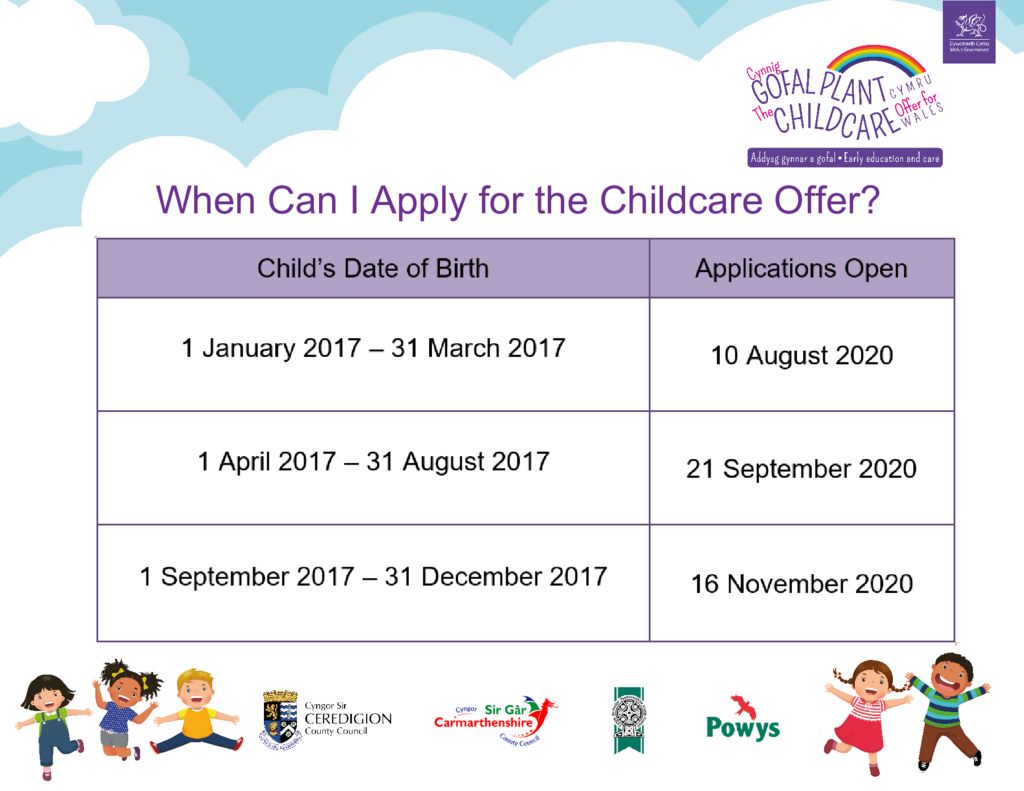 Applications will take up to 28 days to process due to the expected volume of applications.  Funding will begin from the day the application is approved.  Parents are encouraged to submit an application with ALL the correct evidence. This will speed up the process.
---
Important information for parents prior to applying:
Parents/Carers must have the following information available in the format of a photo or electronically ready to upload as part of their application.
Child's birth certificate
Proof of address (Council Tax Bill or Utility bill dated within the last 3 months)
Payslips – 3 most recent monthly payslips for each parent or if paid weekly each week for the last 3 months.
If self-employed your most recent Self-Assessment Tax Return.
If parents are in new employment and do not have a payslip. They must have a copy of their contract or a letter from the employer confirming the income and hours worked.
Anybody having trouble uploading evidence as part of the application should e-mail the evidence to gofalplantsirgar@ceredigion.gov.uk immediately after completing the application
Parents who do not attach evidence as part of their application will delay the approval process. Priority will be given to fully completed applications.
Responding to queries such as "when will my application be processed?" will only delay the Ceredigion Childcare team from dealing with actual applications. We kindly ask you to not to contact the team within the 28 day period. We fully appreciate your patience with this.
Please note:  If parents choose to use childcare before their application is approved, they are responsible for paying the costs of the childcare.  No childcare funding can be back-dated to account for the period before an application is approved.
The online application form if your child was born between 1st January 2017 and 31st August 2017 is available below –

PARENT ONLINE APPLICATION FORM
(Please note the application form does time out. Please complete it in one go, it is not possible to save it and come back to it at a later point)
---
---
To access the childcare element of the offer parents and guardians must:
Have a child aged 3 or 4 years and is able to access part time Foundation Phase Nursery Education
Live within Carmarthenshire
Be employed or self-employed and permanently reside in Wales.  Both parents/co-habiting couples must be working in a two parent family, or the sole parent in a lone parent family;
For the purpose of the pilot parent/carers will need to earn the equivalent of at least 16 hours at national living wage or national minimum wage per week; or are in receipt of specific caring benefits. Parent will not to be eligible if they earn more than £100,000 per annum – this is a per parent limit
Where parents have separated but do not share equal custody of the child, the parent with primary custody will be eligible to take up the offer (if they meet the eligibility criteria). Where parents share equal custody one parent will need to be nominated as the lead parent for the offer.
Parents, guardians, step-parents and live-in partners will all need to meet the eligibility criteria in order for a child living within that household to be able to take up the offer.
What happens if I or my partner loses our job?
Should a parent fall out of eligibility, a temporary exemption period of 8 weeks will be granted during which they will be able to continue to access the offer.
Exceptions to eligibility:
Parents who are temporarily away from the workplace either because of sickness or because of parental leave (including maternity leave, statutory shared parental paid leave or adoption leave) will remain eligible to receive the offer as they are considered to be employed.
Where one parent meets the eligibility criteria and the other parent is in receipt of one of the following benefits, that child will still be able to access the offer:
Incapacity benefit
Carers allowance
Severe disablement allowance
Long term incapacity benefit
Employment and support allowance
National insurance credits on the grounds of incapacity for work or limited capability for work
Families where both parents are in receipt of the above benefits will not be able to access the offer.
Family and friends carers (also known as Kinship carers) are those who have taken responsibility for a child or step-child who is not their own because:
The child has no parents or has parents who are unable to care for the child;
It is likely that the child would otherwise be looked after by a local authority because of concerns in relation to the child's welfare
Kinship carers can access the offer as long as they meet the earnings criteria to be classed as 'working', live in Carmarthenshire and are caring for a child who is the correct age to receive the offer.
Childcare Provider Information
Registration Process for Care Inspectorate Wales (CIW) Registered Childcare Providers
You will be required to register with Ceredigion County Council (Delivery Authority on behalf of Carmarthenshire County Council) in order to deliver the Offer to eligible children within Carmarthenshire.
The on-line registration form for Childcare Providers is now open for you to complete.  Please click on the following link to access the site:
Once you have created a Clic account you are ready to enter the 'Childcare Provider Registration (Carmarthenshire) form.  You will need to complete a 'Childcare Provider Registration' form for each service area you deliver e.g. after school club, day nursery, holiday club etc.
Once you have completed the online registration form you will receive a contract which you will need to signed and returned to Clic Ceredigion.
If you have any issues with the registration process please contact Clic Ceredigion on 01545 570881 or e-mail clic@ceredigion.gov.uk
---