The Childcare Offer for Wales
Childcare Offer for Wales to re-open
The Childcare Offer which provided eligible parents with up to 30 hours of Government funded early education and childcare for their 3 & 4 year olds was suspended in April.  This was to allow resources to be refocused, to support the childcare needs of critical workers and vulnerable children through the Coronavirus Childcare Assistance Scheme (C-CAS).
The application process for parents/carers during August and September
Parents who would have been eligible for the Offer in the summer term (children who turned 3 between January 1st and March 31st, 2020), but who missed out on a full term because they had not started taking up the Offer before the pandemic, will be able to take up the Offer from the start of the autumn term in Carmarthenshire, if still eligible. Applications for these children will be open on Monday August 10th.
If families had already been accepted for the offer previously, the Ceredigion Childcare Team are in the process of contacting parents for their updated information.  Parents do not need to complete the whole application again.
Parents who had not applied previously will need to complete a full application.
Parents whose child becomes eligible for the Offer in Carmarthenshire from the autumn term (children who turn/turned 3 between April 1st and August 31st, 2020), will be able to apply from Wednesday  9th September and can take up a funded place once Ceredigion Childcare team has processed their application following eligibilty checks.
*Important Update*
Parents of autumn term children will now be able to apply from the 9th September this date has been brought forward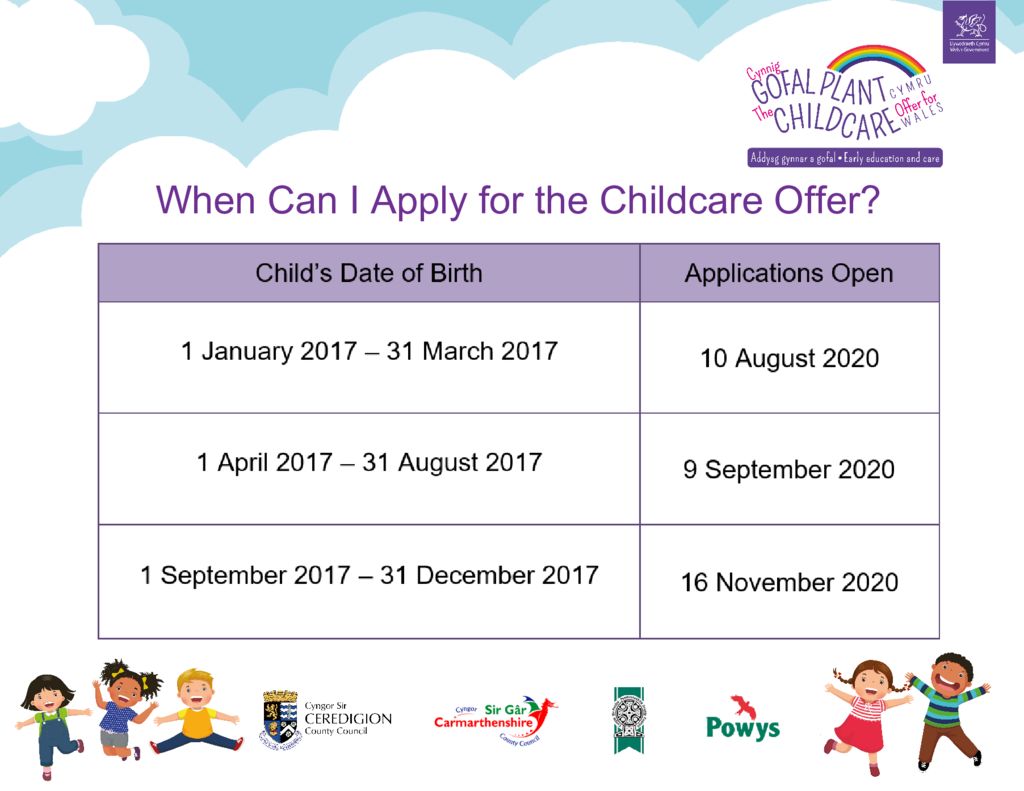 Applications will take up to 28 days to process due to the expected volume of applications.  Funding will begin from the day the application is approved.  Parents are encouraged to submit an application with ALL the correct evidence. This will speed up the process.
---
Important information for parents prior to applying:
Parents/Carers must have the following information available in the format of a photo or electronically ready to upload as part of their application.
birth certificate (long version) or birth certificate (short version) with proof of parental responsibility
Proof of address (Council Tax Bill or Utility bill dated within the last 3 months)
Payslips – 3 most recent monthly payslips for each parent or if paid weekly each week for the last 3 months.
If self-employed your most recent Self-Assessment Tax Return.
If parents are in new employment and do not have a payslip. They must have a copy of their contract or a letter from the employer confirming the income and hours worked.
Anybody having trouble uploading evidence as part of the application should e-mail the evidence to gofalplantsirgar@ceredigion.gov.uk immediately after completing the application
Parents who do not attach evidence as part of their application will delay the approval process. Priority will be given to fully completed applications.
Responding to queries such as "when will my application be processed?" will only delay the Ceredigion Childcare team from dealing with actual applications. We kindly ask you to not to contact the team within the 28 day period. We fully appreciate your patience with this.
Please note:  If parents choose to use childcare before their application is approved, they are responsible for paying the costs of the childcare.  No childcare funding can be back-dated to account for the period before an application is approved.
The online application form is available below (due to high demand there may be periods of unavailability, we ask parents to be patient and try again later if unavailable).  When applying if your childcare provider is not on the list please contact your childcare provider directly –

PARENT ONLINE APPLICATION FORM
(Please note the application form does time out. Please complete it in one go, it is not possible to save it and come back to it at a later point)
---
---
Childcare Provider Information