Childcare Offer
Registration Process for Care Inspectorate Wales (CIW) Registered Childcare Providers
You will be required to register with Ceredigion County Council (Delivery Authority on behalf of Carmarthenshire County Council) in order to deliver the Offer to eligible children within Carmarthenshire.
The on-line registration form for Childcare Providers is now open for you to complete.  Please click on the following link to access the site:
ONLINE REGISTRATION FORM FOR CHILDCARE PROVIDERS
Once you have created a Clic account you are ready to enter the 'Childcare Provider Registration (Carmarthenshire) form.  You will need to complete a 'Childcare Provider Registration' form for each service area you deliver e.g. after school club, day nursery, holiday club etc.
Once you have completed the online registration form you will receive a contract which you will need to signed and returned to Clic Ceredigion.
If you have any issues with the registration process please contact Clic Ceredigion on 01545 570881 or e-mail clic@ceredigion.gov.uk
---
Where can I find out more about the Childcare Offer? For further information please visit the Welsh Government website – The Childcare Offer for Wales
---
The Childcare Offer team are now accepting applications for the Childcare Offer from Providers from September 2019.
Please encourage your parents to make an application as soon as possible to leave enough time for their application to be processed before the beginning of the new term.
Please read the document below which includes important information about your role as a provider for the Childcare Offer.
If you have any questions, please do not hesitate to contact the Childcare Offer Team.
Childcare Offer Information for Childcare Providers
Childcare Offer Capital Grant Funding/Small Grant Scheme

Important Information in Relation to Capital Grant Funding – Please read carefully before starting to write your application form.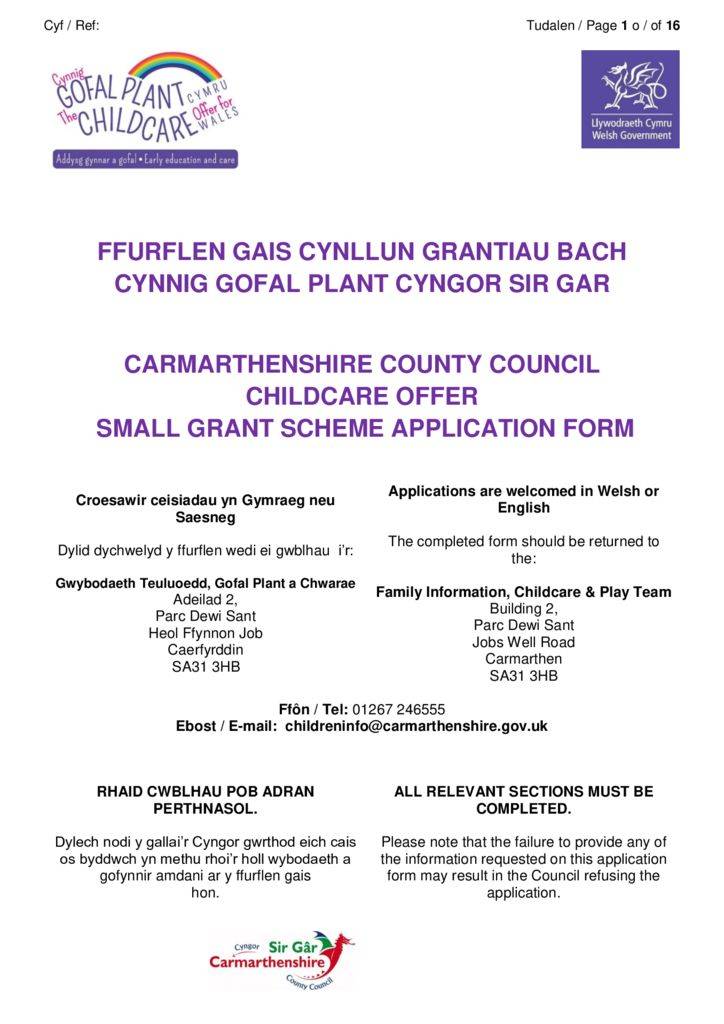 If you require a hard copy of the guidance and application form please contact the Family information Service on 01267 246555 or e-mail ChildrenInfo@Carmarthenshire.gov.uk
Delivering the Childcare Offer
Delivering the Childcare Offer
Delivering the Childcare Offer
Delivering the Childcare Offer
Delivering the Childcare Offer
Delivering the Childcare Offer