Double Recognition for Carmarthenshire Family Information Service
Bronze Award Investors in Carers
Carmarthenshire Family Information Service (FIS) has successfully achieved the Investors in Carers (liC) – Bronze Level Award.  The Investors in Carers Bronze Level award is a quality assurance scheme which has themed standards, an audit and certification process which recognises best practice.  A scheme which is delivered by Hywel Dda University Health Board and supported by its local authority and third sector partners in Carmarthenshire, Ceredigion and Pembrokeshire.
Carmarthenshire FIS is the first Family Information Service to achieve the Award.
Caring for someone can be very isolating, worrying and stressful. For young carers, this can negatively impact on their experiences and outcomes in education, having a lasting effect on their life chances.  The Investors in Carers scheme covers Carers of all ages and situations including; Young Carers, Young Adult Carers, Parents/Carers who carer for a child with a disability or mental health issues, sibling carers etc.
The FIS have achieved the award by demonstrating awareness of Carers issues and are now recognised as 'Carer Leads' able to identify and signpost Carers, as well as reminding everyone of the importance of Carer awareness, providing much needed information and helping carers realise that they are not alone in the challenges they might face. The scheme was designed to support adherence to key pieces of national and local legislation, including the Social Services and Well-being Act 2014 commitments, and legislation relating to equality and diversity.
Leanne McFarland, Family Information & Childcare and Carer Lead said "We are delighted to have achieved the Bronze Award in recognition of the support the Family Information Service provide to Carers. We are fully committed to continue to work alongside the Carers Service to support carers within Carmarthenshire with regards to both their information and wellbeing."
A carer is someone, of any age, who provides unpaid support to family or friends who could not manage without this help. This could be caring for a relative, partner or friend who is ill, frail, disabled or has mental health or substance misuse problems. Anyone can become a carer; in most cases becoming a carer is not out of choice, it just happens.
For more information about the Investors in Carers scheme or for useful advice for carers, please visit: www.hywelddahb.wales.nhs.uk/carers or email carersteam.hdd@wales.nhs.uk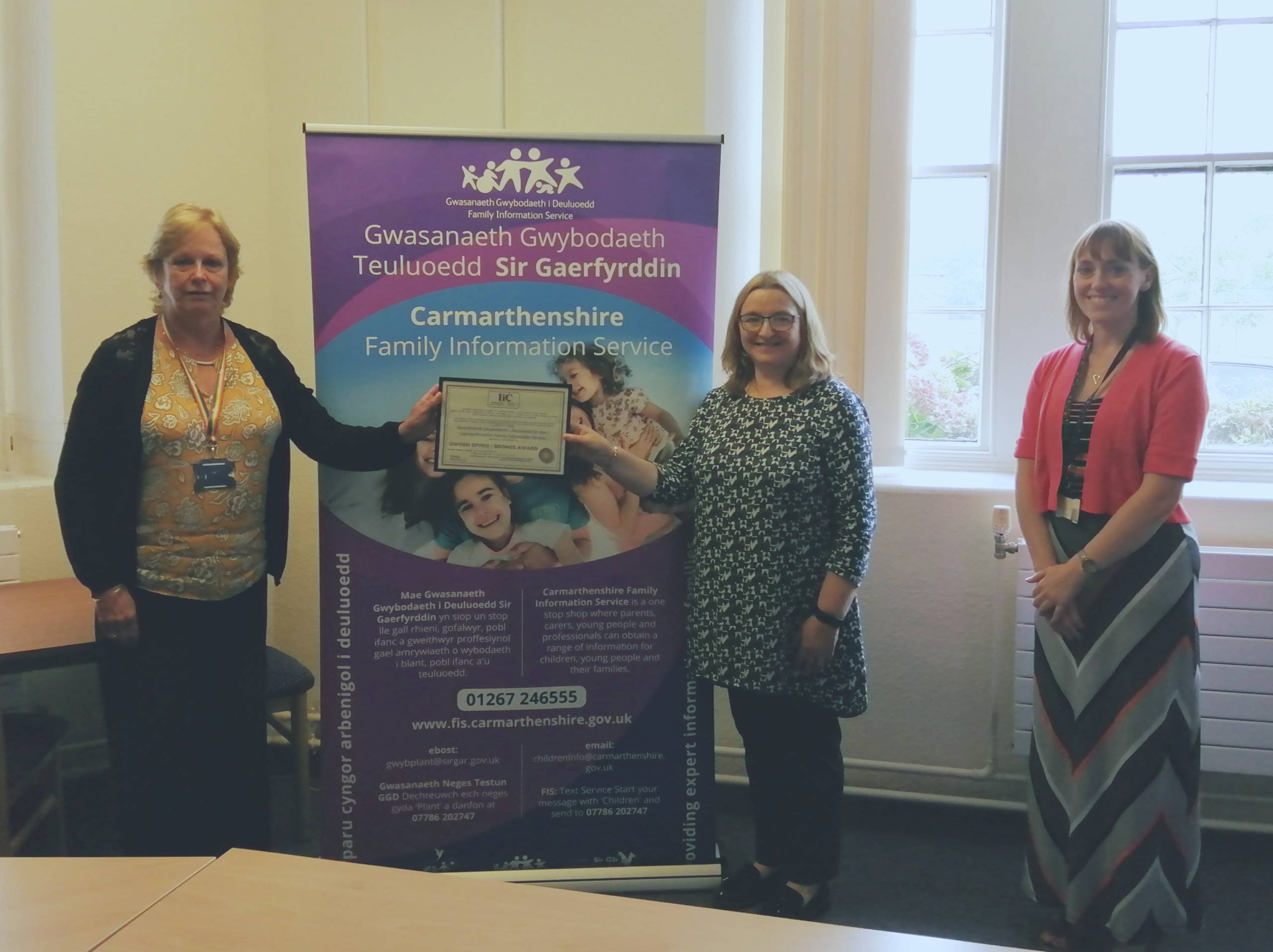 Quality Award (FFQA)
Carmarthenshire Family Information Service have achieved a national Families First Quality Award (FFQA) in recognition of their work.  They have successfully held this award for two consecutive reviews, and this is their third achievement.  Following a full review, discussion with FIS officers, partners and service users and observations of the FIS service provision, it was felt that Carmarthenshire FIS retain the Award in full.
Since the last review there have been significant improvements in the provision and sharing of information, particularly in digital form.  Carmarthenshire Family Information Service (FIS) continue to have a strong background in providing quality information to local families.  Carmarthenshire FIS are the first Family Information Service in Wales to receive the Award since the set of standards were reviewed and extended to include; Special Educational Needs and Disability (SEND).
The Quality Award has been a very positive way to celebrate the great work Carmarthenshire FIS do in supporting local families.  It's a national quality assurance process and quality improvement framework.  Through achieving the Award it shows Carmarthenshire FIS provide gold standard information to families and keep families at the heart of their work.  It is also evidence that the FIS provide high quality information about options and possibilities that might otherwise remain unknown and inaccessible.
"Information is a key tool for parents, families and professionals.  The FFQA was a rewarding process which enabled us to improve areas and bring about change whilst highlighting the great work we do in supporting families." Mari Gravell, Family Information Outreach Officer.
Carmarthenshire FIS has accessible, accurate and quality information on services available to parents and families, this underpins all initiatives, services and projects supporting children, young people and parents.  For further information visit – https://fis.carmarthenshire.gov.wales or phone 01267 246555