The Flying Start Language & Play Service offers Language & Play groups for both babies and toddlers, run throughout the Flying Start areas.
We recognise that Parents and Carers have the biggest part to play in their child's development. Play is the way children learn new skills, and language is one of the most important skills that children learn while they play.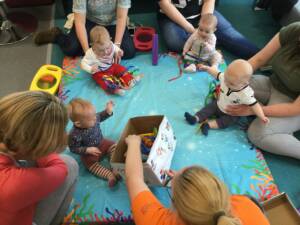 Flying Start offer Language and Play Sessions which provide a variety of play activities to develop language, communication and social skills in a fun and interactive way for parents and their children.
Sessions include Storytime, sharing books singing, and messy play and craft activities.
Flying Start provide LAP sessions for Babies 0 – 15 months, and as children grow and develop there are further LAP sessions for Toddlers 16 months and 3 years.
Active Story Animal Boogie