The Childcare Advisory Team consists of:
Jasmin Lewis-Hovey –

Early Years Transition Teacher

Avril Chambers –

Childcare Support Officer

Rebecca Woods –

Childcare Support Officer

Hayley Davies –

Childcare Coordinator
The team can be contacted on the Flying Start number: 01554 742447
What do we do?
We work closely with the settings to provide high quality childcare provision by visiting settings on a regular basis to offer advice and support; as well as developing and monitoring quality of practice.
To enhance childcare provision at all of our nursery settings we offer specialist training workshops which includes;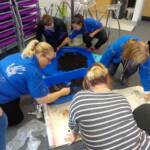 Messy Play
Small World and Construction
Celebrating Multicultural Diversity and Bilingualism
Planning
Attachment and Me
Risk Assessments
FPP
Numicon
Sand and Water Play
Transition
Transition plays a key part in the role of the childcare advisory team, where by childcare support officer's work in partnership with all childcare settings, as well as key professionals to ensure a smooth transition into Nursery for every child.  This involves undertaking termly transition meetings between relevant childcare settings and nursery teachers.
Welsh Government aim to improve childcare attendance across all Flying Start Authorities, with a target of 95% to be achieved by 2020.   In line with this, childcare support officers undertake monthly register checks to ensure children are taking up their funded childcare places, as well as monitoring each child's attendance through the use of the childcare 'Attendance Policy'.