The Flying Start Dietetic Service strives to inform, support and empower families in the Flying Start area to achieve good nutrition and well being through a healthy diet and lifestyle,  in addition to working with the wider team and families to effectively manage a range of common diet and nutrition related problems.
We offer a range of group sessions which include the '
Come and Cook

' course, weaning parties and antenatal sessions.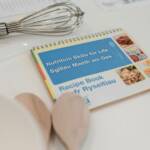 Our Dietitian sees children and their families, within referral criteria, with more complex nutritional or dietary need on a 1:1 or group basis, supporting them to achieve improved nutrition and well being.
We work across the Flying Start areas of Carmarthenshire- Llanelli, Ammanford and Carmarthen and provide training and education.
Our training and education includes the delivery of accredited and bespoke diet and nutrition programmes for the Flying Start team and partners. Aiming to build and sustain core nutrition skills for the widest impact on health and well being.
Nutrition websites for further information and leaflets for children