Maternity and New Parent Fayre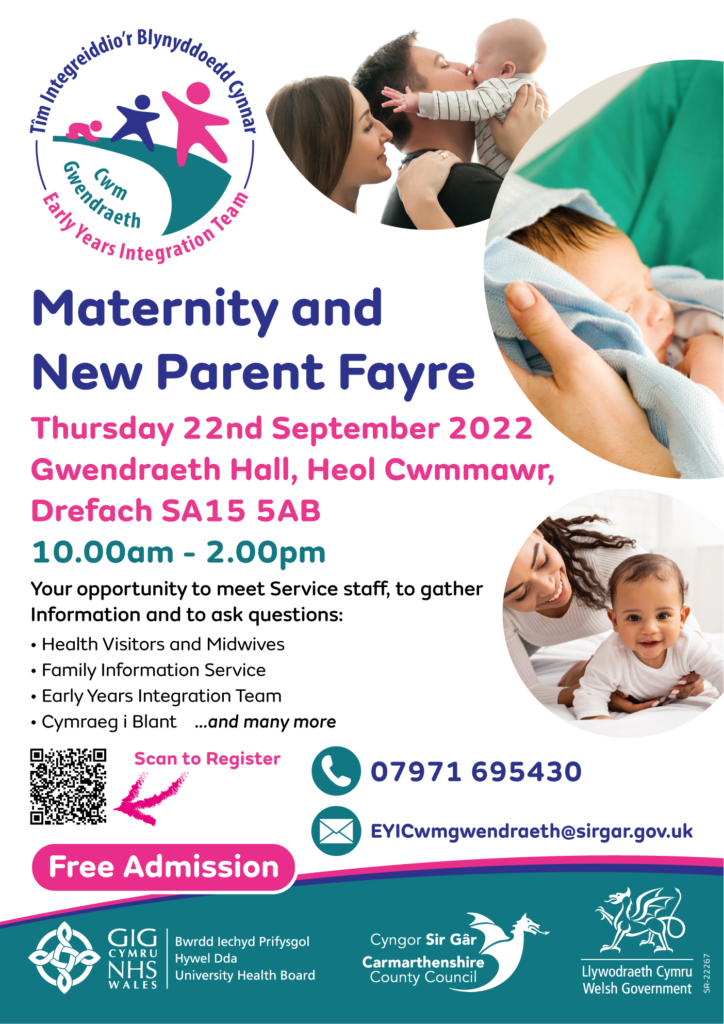 We are excited to be holding a FREE Maternity and New Parent Fayre in Neuadd y Gwendraeth, Drefach on September 22nd between 10am and 2pm.
There will be opportunities for you to meet and chat with a number of Services that you may use once you've had your baby or in the near future.
These will include:
Health Visitors – Information about safe sleeping, infant feeding and weaning etc
Midwives – providing information on smoking cessation, healthy eating, vaccinations in pregnancy and showing video clips of the Midwifery Led Unit and Labour wards in Glangwili hospital.,
Carmarthenshire County Council Road Safety Officer – to advise on the safe fitting of child car seats and in-car safety.
Babanod eco Nappy Library ( Real Nappy lending service)
Mudiad Meithrin & Cymraeg i Blant – Information about local pre-school, and parent and baby provision under the Mudiad umbrella
Family Information Service – Providing free, impartial help, support, advice & guidance on a range of childcare, family support & family related issues.
Mid and West Wales Fire Service – Valuable advice to ensure that your home is as safe as possible and offering Free Home Safety checks.
Tumble Family Centre and Plant Dewi – free local groups and activities for families
It will also be a great chance for you to meet the Early Years Integration Team Support Workers and other expectant and new parents from the area.
We really hope you can join us, and look forward to meeting you. Register here