Plant Dewi Family Centres & Family Together Groups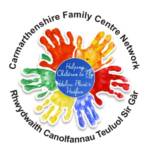 A network of support throughout Carmarthenshire for families with children aged 0 to 11years.
Plant Dewi Family Centres are based in the heart of communities across Carmarthenshire.
They are a local place  for families to meet and get involved in different activities and learn new skills.
Activities for families and children aged 0-4 years include baby massage, Language and Play, songs and storytelling.  Older children in the family can join in holiday activities.
For parents there are confidence building and well being activities, parenting programmes, healthy lifestyle and home safety activities.
Families Together Groups are locally based, support groups for parents  in rural locations.
They provide a local meeting place and a chance to socialise, grow in confidence, learn new skills and gain support in parenting.
Groups meet on a weekly basis in Newcastle Emlyn and Llandeilo.