Summer of Fun
July 1st – September 30th 2022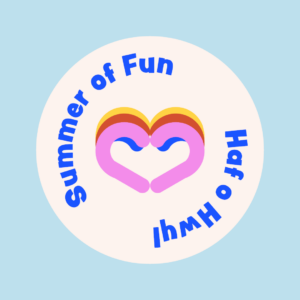 Carmarthenshire County Council is pleased to announce that The Summer of Fun Welsh Government initiative is back again this year!
The Summer of Fun provides  children and young people with FREE leisure, recreational, sporting, cultural and play-based opportunities to help rebuild their social and emotional skills in both Welsh and English.
Please see our Whats On Page for more information on what activities will be on offer during the Summer in Carmarthenshire.
This will be updated regularly as we receive more information
Summer of Fun Family Centre Provision For Children 2022
For information regarding Family Centres:
St Pauls Family Centre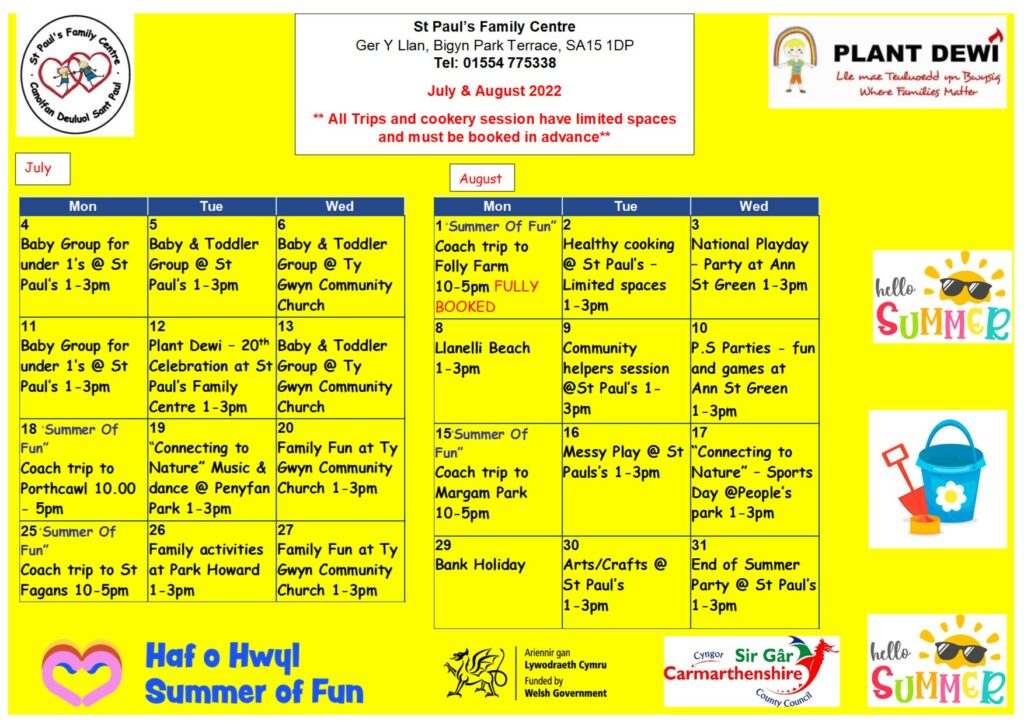 Plant Dewi
FREE Activities for parents under 26
Activities include Arts and Crafts, Messy Play, Language and Play, Healthy Picnic and Refreshments.
Where? Pontyberem Memorial Hall
When? Every Monday 10-11:30 starting from 18th July
For more information please contact: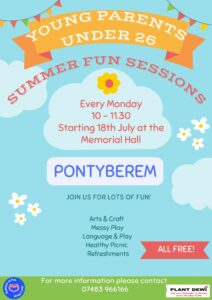 Families Together Groups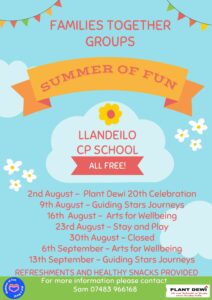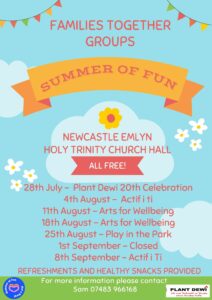 Clwb Bach Ni
For activities in the rural areas of Pumsaint and Crugybar please see below timetable for some exciting activities!
For more information or to book a place please contact Helen Lewis on: 07771867092
Join their Facebook Group Clwb Bach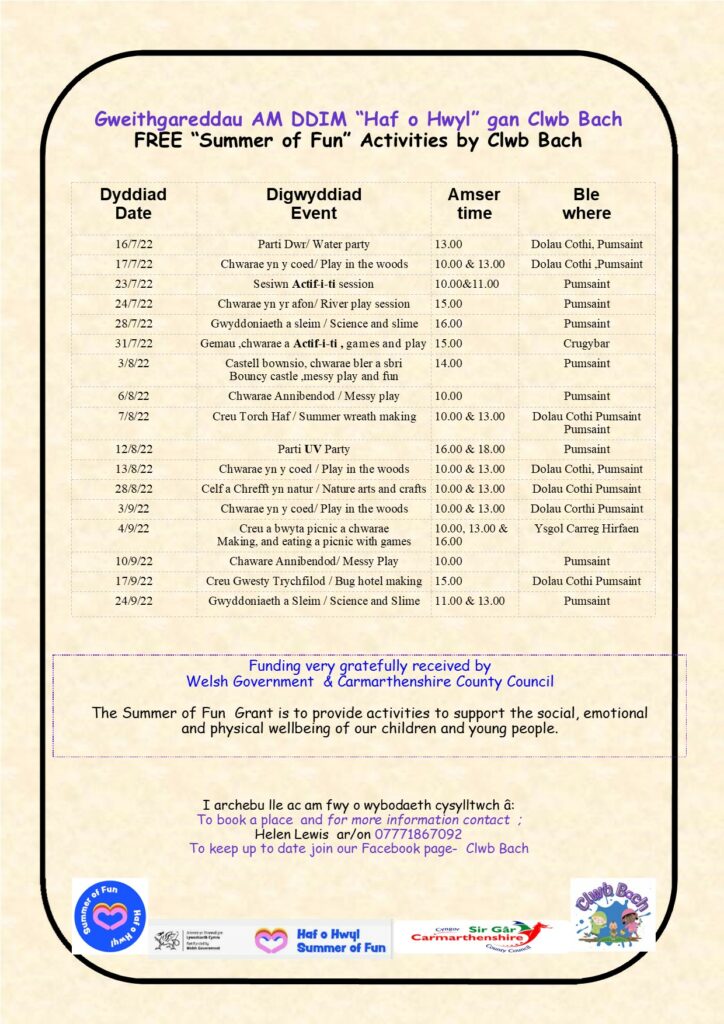 Actif
Free swimming lessons for children aged 7-11 years: at the following Leisure Centres, Carmarthen, Llandovery, Llanelli and Amman Valley.
Please see below for more information and contact e-mail addresses: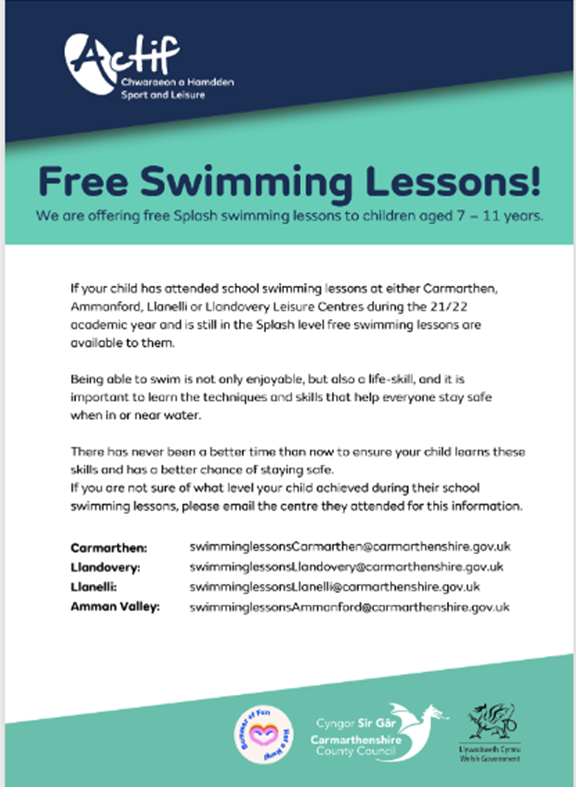 Amman Valley Leisure Centre
Activities suitable for children aged 11-16 years
Please contact them direct for more information and to book:
https://www.actif.wales/locations/amman-valley/
Friday 5th August
Gymnasium – Dodgeball – 7:00 – 8:00
Gymnasium – Fitness Class – 8:00 – 9:00
Sports Hall – 5 a side 8:00 – 9:00
Pool – Aquaboards – 8:15 – 9:00
Studio – Fitness Class – 7:00 – 8:00
Friday 12th August
Gymnasium – Dodgeball – 7:00 – 8:00
Sports Hall – Basketball – 8:00 – 9:00
Pool – Aquaboards – 8:15 – 9:00
Studio – Fitness Class – 7:00 – 8:00
Friday 19th August
Gymnasium – Basketball – 7:00 – 8:00
Gymnasium – Dodgeball – 8:00 – 9:00
Sports Hall – Inflatable – 8:15 – 9:00
Pool – Aquaboards – 8:15 – 9:00
Studio – Fitness Class – 7:00 – 8:00
Thursday 25th August 
Gymnasium – Disco – 7:00 – 8:00 and 8:00 – 9:00
Sports Hall – 5 a side 8:00 – 9:00
Pool – Inflatable – 8:15 – 9:00
Llandysul Paddlers
Exciting news! As part of the Welsh Governments Summer of Fun initiative we have linked up with Carmarthenshire County Council Actif Sport and Leisure department to deliver some amazing FREE activities for residents of Carmarthenshire. These activities include White Water Kayaking, Stand Up paddle boarding, River Swimming and Rock Climbing in the Summer holidays.
To book your place you will need to get a ticket from eventbrite (links are provided on the poster below) Any questions about these sessions please email lpbookings@aol.com or call 01559 363209
Llandysul Paddlers – Information Summer of Fun
For timetable please click on the link below:
Llandysul Paddlers – Timetable Summer of Fun
Forces of Fitness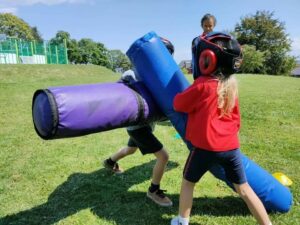 Are you ready for a Summer of Fun with Forces Fitness in Carmarthenshire?
The Summer of fun will be looking to engage service families, children and their friends including children of ages 7+ and their families for some activity sessions through the summer holidays! The Sessions are going to be held at Carmarthen Leisure Centre.  The sessions are completely FREE to attend and for ages 7+ including parents/ Guardians and siblings and supported by SSCE Cymru and Carmarthenshire  County Council.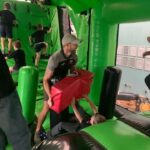 The sessions will be amazing, fun and will comprise of Mini obstacle courses, Gladiator Pugil Challenges, Dodge Ball, Capture the flag, Military Command tasks, Tug of War, Water Challenges and loads of team fun on our Inflatable Obstacle challenges that people of all ages can get involved with and make you smile and have a great summer of fun!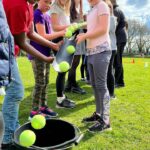 If you wish to sign up please do so on the below link, Limited Spaces are available, once you fill out the form that will confirm your space, the form will be turned off once full:
Summer of fun Confirmed Dates, you can book onto an AM session (10am – 12:00) or PM session (12:30 – 14:30) and you will be booking for the four days  (Please only select one option!):
22nd to 25th August –  Carmarthen Leisure Centre, SA31 3NJ –  Booking Link Below:
https://tinyurl.com/SOFCarmsFF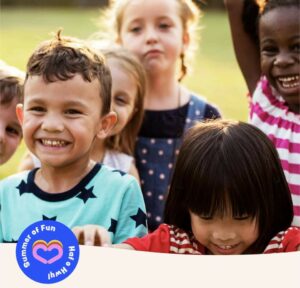 Welsh Language Provision
Menter Gorllewin Sir Gar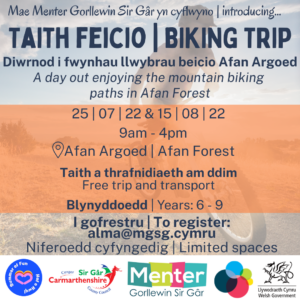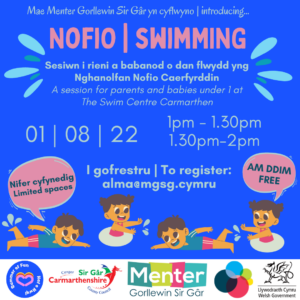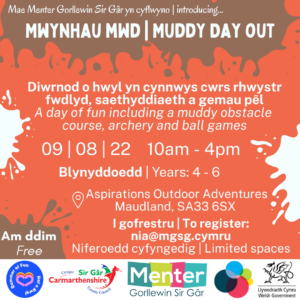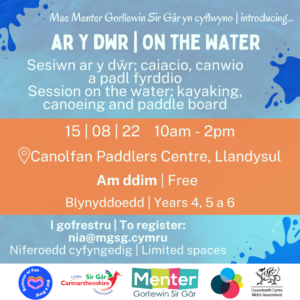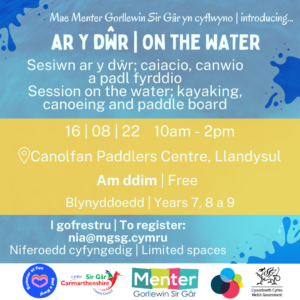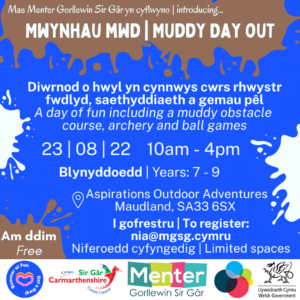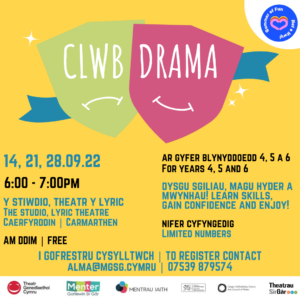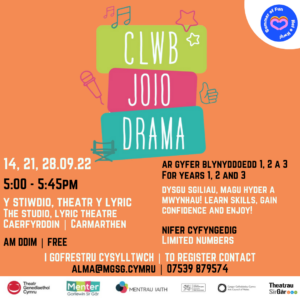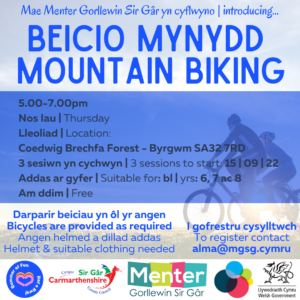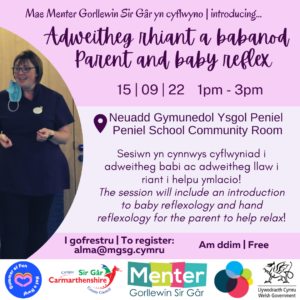 Menter Bro Dinefwr
Menter Dinefwr Event details
Youth Trips – Years 7, 8 a 9
Friday 12th August
Llandysul Paddlers – Run the Rapids
08.45am – 3.30pm
Monday  22nd August
Llandysul Paddlers – River Swim
08.45am – 3.30pm
To register : glynjones@menterdinefwr.cymru
Messy Play sessions
26/7/22, 10am – Black Mountain Centre, Brynaman
13/8/22, 10am – Cae William, Llandeilo
23/8/22, 11am – Rhys Prichard Memorial Hall, Llandovery
03/9/22 – Llandybie
13/9/22 – Pontargothi
20/9/22 – Saron
Booking details are all on Eventbrite – Menter Dinefwr
Kids Show with Siani Sionc
Saturday 17 September, 3.00pm, Pumsaint Hall
Yr Atom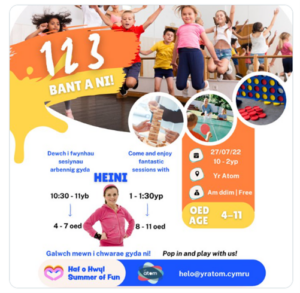 Youth Activities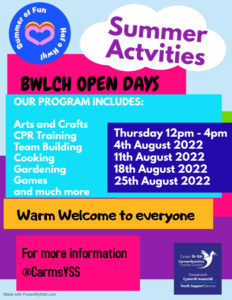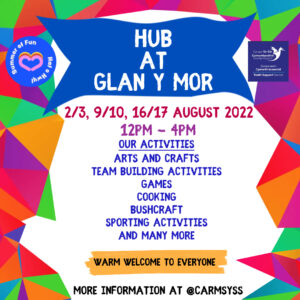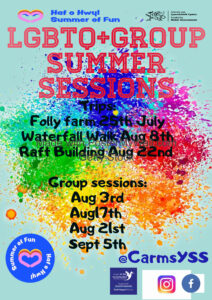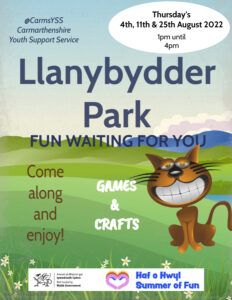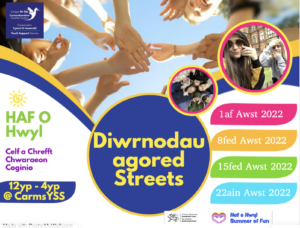 Llanelli Town Council and People Speak Up's Summer of Fun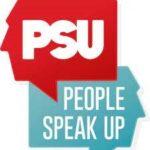 A safe space for children and young people to play and create friends!
Scooters, Arts & Crafts, Football, Badminton,
Open play, child balance bikes, chalk fun,
chatting & storytelling
For more information please call: 07494306920
E-mail: ffion@peoplespeakup.co.uk
Click the link below for their Summer of Fun Timetable!
National Playday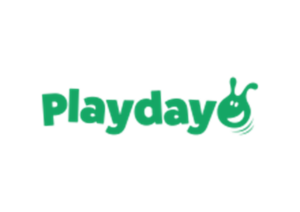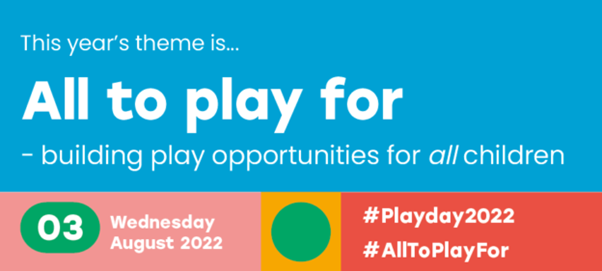 Playday is the national day for play! This year it takes place on Wednesday 3rd of August!
The theme for this year's Playday is … 
All to play for – building play opportunities for all children.
This year's theme aims to highlight that play is for everyone. Play happens everywhere, every day, and is the right of every child and young person. Playday encourages families, communities, and organisations large and small, to consider how they can build better opportunities for all children to play. Following the challenges children and young people have faced over the past two years due to the Covid-19 pandemic, play is more important than ever.
Play is essential for children and young people's physical and mental health.
Play allows children and young people to make friends, develop relationships, and have fun together.
Play enables children and young people to feel connected to their communities, leading to happier communities for all.
Play has an important role in helping children and young people cope with stress and anxiety, deal with challenges, and make sense of what's happening around them.
We're calling for more play, better play, every day!
What's happening in Carmarthenshire on Playday this year?

We will be updating our events section very soon!
For more information about National Playday please visit the playday website: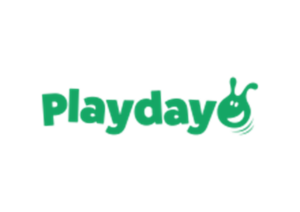 Wheelchair tennis Initiative
Wheelchair tennis is a fun, sociable and welcoming sport – and we're here to help you get started.
Open to all ages our Wheelchair Tennis Initiative gives you the opportunity to learn new skills, and make friends for life.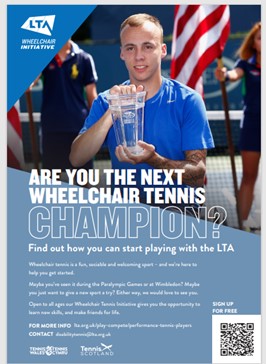 Wheelchair Initiative Poster #1
Find out how you can star t playing with the LTA by visiting:
LTA- Tennis for Britain webpage
or contacting: disabilitytennis@lta.org.uk
Playing out sessions
A playing out event is a play session led by neighbours for neighbours and only publicised within the immediate streets. A residential road is closed to traffic to ensure safety and freedom of movement for participants, with volunteer stewards at each road closure point to redirect traffic and give parents peace of mind.
Parents and carers are responsible for their own children. The emphasis is on free, unstructured play and people usually bring out their own toys such as skipping ropes, bikes and scooters. Children are simply given the space and permission to play in the street, whilst adults have the opportunity to meet and get to know their neighbours better and experience a car-free street.
How to organise playing out sessions on your street is a a step-by step guide to organising street play sessions, based on the experience of parents and residents across the UK.
Playful Childhoods
www.playfulchildhoods.wales | www.plentyndodchwareus.cymru
Playful Childhoods aims to help parents, carers, grandparents and community groups give children plenty of good opportunities to play. The resources can also be used by professionals in their work with children and families.
The Playful Childhoods website is divided into two main sections:
Playful parenting – practical ideas about giving children what they need to get the most out of play – time, space, support and stuff to play with.
Playful communities – information and tips to help groups to consider children's play in their neighbourhoods.
What does it include?
The Playful Childhoods website provides:
Practical ideas about providing time, space and stuff to play with
Top tips, 'how to' guides and ideas for children's play
Information on raising awareness about the importance of play
Guidance about planning a community play area
Examples of playful communities and projects
Links to information on play opportunities available in every local authority in Wales
A blog featuring regular guest articles and up-to-date information about children's play.
Playful ideas for family walks
Active children are happy children – they like to be running around and having fun. Bodies were not designed to sit down all of the time – they need to walk, jump, run and move.
Getting active is great for adults too; the more active you are, the better you'll feel – both now and in years to come.  When children see you joining in and having fun in the different activities, it'll encourage them to be active too.
An excellent way of getting children more active is allowing them plenty of time and space for play. Playing is essential for children's health and well being. Why not include some fun and playful games during your next family walk that will get the children more active and make it an enjoyable experience for everyone.
Download the Playful Walks booklet and use it on your next family walk:

Playful Walks booklet
Get in touch with us for Play resources: