Playday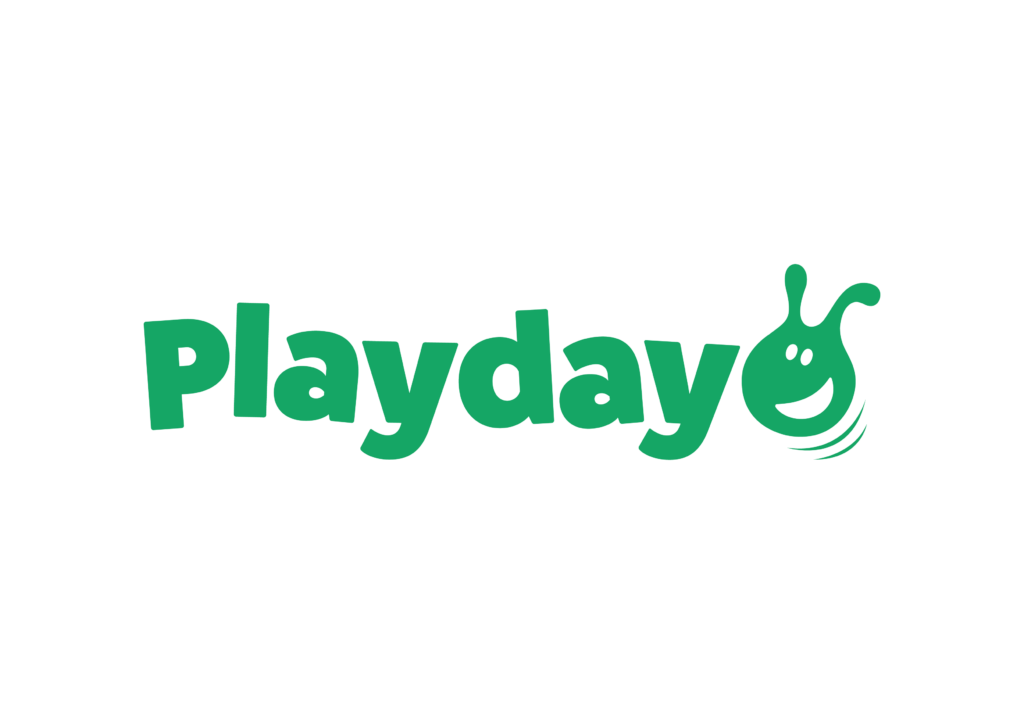 Playday is the national day for play! This year it took place on Wednesday 4th August!
The theme for this year's Playday was … Summer of Play.
The Playday 2021 theme recognises the challenges children and young people have faced over the past year and the need to enjoy time for play free of restrictions, with their friends, having fun.
What happened on Playday?
To celebrate Playday, children, young people and communities came out and played at a number of events across Carmarthenshire.
Playday events ranged from street parties, festivals in parks or village greens, Story Book Treasure Hunts, Active Story Sessions and playing old fashioned outdoor games.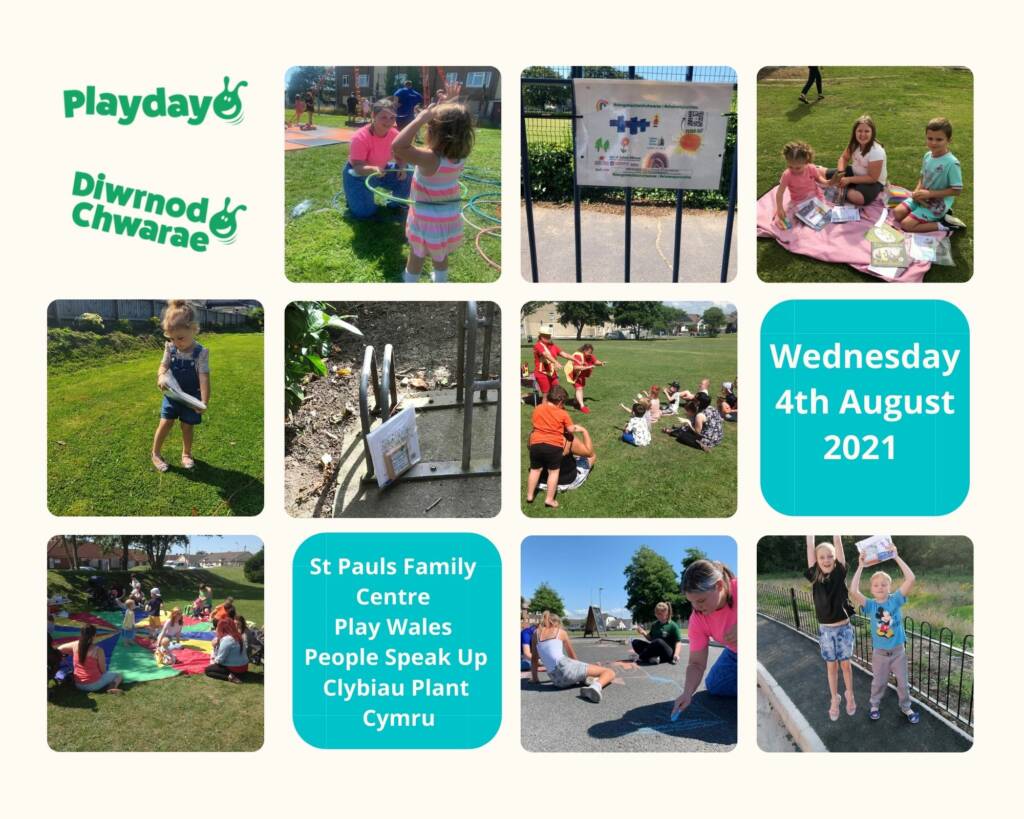 Summer of Fun
The Summer of Fun is an offer for children and young people aged 0-25 to play and participate in leisure, recreational, sporting and cultural activities to help rebuild their social and emotional skills in both Welsh and English.
Actif Wales 
Get active this summer with FREE, FUN, and INCLUSIVE sport and physical activity sessions, in a location near you!
Click the picture to be directed to the timetable and registration forms.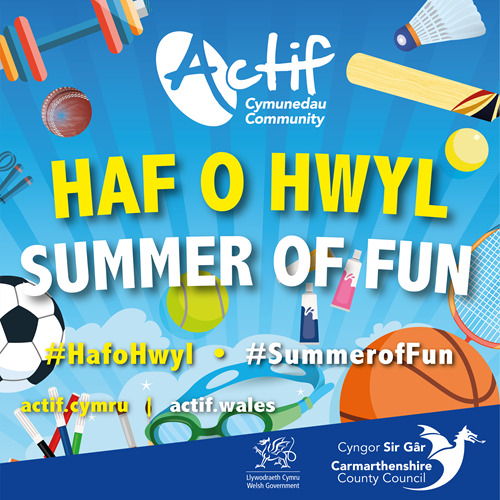 Cwm Gwendraeth Play Sessions
We are delighted to offer FREE Fun Sessions at various locations across the Cwm Gwendraeth area during August and September. Join us for Arts and Crafts, Songs, Messy Play, Sensory Fun and Music and Movement.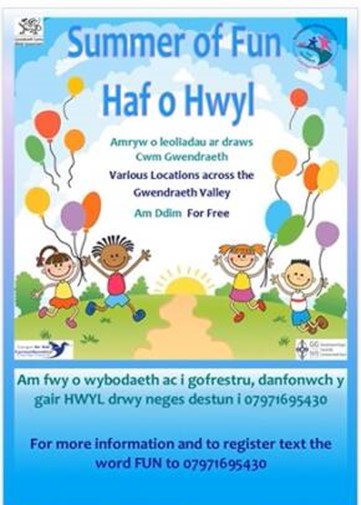 For more information , and to register, click the link or text FUN to 07971 695430
Register
Wheelchair tennis Initiative
Wheelchair tennis is a fun, sociable and welcoming sport – and we're here to help you get started.
Open to all ages our Wheelchair Tennis Initiative gives you the opportunity to learn new skills, and make friends for life.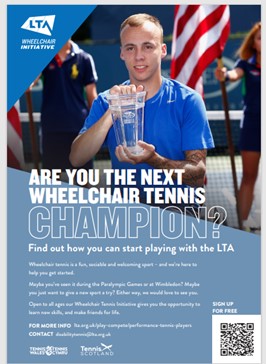 Wheelchair Initiative Poster #1
Find out how you can star t playing with the LTA by visiting:
LTA- Tennis for Britain webpage
or contacting: disabilitytennis@lta.org.uk
Playing out sessions
A playing out event is a play session led by neighbours for neighbours and only publicised within the immediate streets. A residential road is closed to traffic to ensure safety and freedom of movement for participants, with volunteer stewards at each road closure point to redirect traffic and give parents peace of mind.
Parents and carers are responsible for their own children. The emphasis is on free, unstructured play and people usually bring out their own toys such as skipping ropes, bikes and scooters. Children are simply given the space and permission to play in the street, whilst adults have the opportunity to meet and get to know their neighbours better and experience a car-free street.
How to organise playing out sessions on your street is a a step-by step guide to organising street play sessions, based on the experience of parents and residents across the UK.
Playful Childhoods
www.playfulchildhoods.wales | www.plentyndodchwareus.cymru
Playful Childhoods aims to help parents, carers, grandparents and community groups give children plenty of good opportunities to play. The resources can also be used by professionals in their work with children and families.
The Playful Childhoods website is divided into two main sections:
Playful parenting – practical ideas about giving children what they need to get the most out of play – time, space, support and stuff to play with.
Playful communities – information and tips to help groups to consider children's play in their neighbourhoods.
What does it include?
The Playful Childhoods website provides:
Practical ideas about providing time, space and stuff to play with
Top tips, 'how to' guides and ideas for children's play
Information on raising awareness about the importance of play
Guidance about planning a community play area
Examples of playful communities and projects
Links to information on play opportunities available in every local authority in Wales
A blog featuring regular guest articles and up-to-date information about children's play.
Playful ideas for family walks
Active children are happy children – they like to be running around and having fun. Bodies were not designed to sit down all of the time – they need to walk, jump, run and move.
Getting active is great for adults too; the more active you are, the better you'll feel – both now and in years to come.  When children see you joining in and having fun in the different activities, it'll encourage them to be active too.
An excellent way of getting children more active is allowing them plenty of time and space for play. Playing is essential for children's health and well being. Why not include some fun and playful games during your next family walk that will get the children more active and make it an enjoyable experience for everyone.
Download the Playful Walks booklet and use it on your next family walk:

Playful Walks booklet
Get in touch with us for Play resources: