Play Carmarthenshire
The Carmarthenshire Play Team can support you in a variety of ways. We offer
Play Training each term to all registered and non registered settings; school staff; parents and community groups. For play training opportunities please contact the Family Information Service on 01267 246555
Playful ideas and signposting to playful activities and events.
Advice on how to create a rich play environment for all ages, whether it's at home or in school.
Information on Play Policy and The Play Sufficiency Assessment.
Advice and guidance and letters of support for funding applications.
To find help, services and information within Carmarthenshire:
Click here
Food and Fun 2022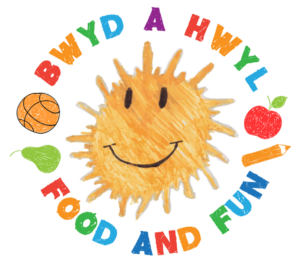 Food and Fun is a school-based education programme that provides food and nutrition education, physical activity, enrichment sessions and healthy meals to children in areas of social deprivation during the school summer holidays.
This programme was previously known as "School Holiday Enrichment Programme (SHEP)" but as of 2022 will be known as 'Food and Fun'.
The Food and Fun model is a partnership approach involving schools, health professionals, councils and community sports staff and is based on the following "ethos" and core elements:
"Working together to promote healthy living, support positive well-being and improve engagement with education and the school during the summer holidays."
A school based programme delivered by school staff and partners.
A minimum of 12 days over the school summer holidays.
Healthy breakfast and lunch in line with the Food and Fun Menu Principles.
A minimum of one hour of structured physical activity per day.
All Wales Food and Fun Nutrition Education Sessions.
A family meal activity at least once per week Enrichment sessions provided by school staff and/or partners.
The 4 Primary Schools taking part this year in Carmarthenshire are:
Pontyberem School
Y Bedol School
Penrhos School
Burryport School
Bilingual Communication Boards
The boards have been put up in local parks across Carmarthenshire to support children's communication whilst they are playing. See the video for more information.