Integrated Children's Centres
Children's Centres act as a network of services to support children aged 0-12yrs and their families, providing integrated education, childcare, family support, play and health services in order to improve outcomes for children and their families. Carmarthenshire has three centres based in Morfa, Felinfoel and Llwynhendy.
Whilst Children's Services are responsible for the strategic direction of all three centres they work in partnership with Schools, Health, Flying Start, CYCA, CAVS, Cylch Meithrin Felinfoel and Plant Dewi who provide services directly at Morfa and Felinfoel. Each Centre will respond to community need and therefore may offer different provision but, generally the following activities are available:
Early Years Nursery Education for children aged 2-3yrs under the Flying Start programme
Open Access Play for children aged 7-11yrs
Play Club for children aged 4-6yrs
Baby Play 0-1yrs inc breast feeding support
School holiday activities including Family Fun Days and trips/outings
Flying Start Health Visitor Clinics & Perinatal Clinics
Antenatal groups
Parenting programmes including Baby Massage
Parent and Toddler Sessions: Language and Play, Ti & Fi & Story Time
DWP Employment and Training Drop In Surgeries
Employment courses
Families First and Flying Start provide support in target locations across the county from Family Centres, Family Groups and Integrated Children's Centres. They offer help and support for mums, dads, carers to give children the best start in life. Providing a range of opportunities such as early year's activities, support for parents, up skilling, training and play opportunities.
For further information on each centre please call in or contact by telephone or email Estelle Etheridge, Integrated Children's Centre Manager 01554 742203
You can also look at our facebook pages for updates and further information into what we do
Llwynhendy Children's Centre Facebook
Morfa Children's Centre Facebook
Felinfoel Children centre Facebook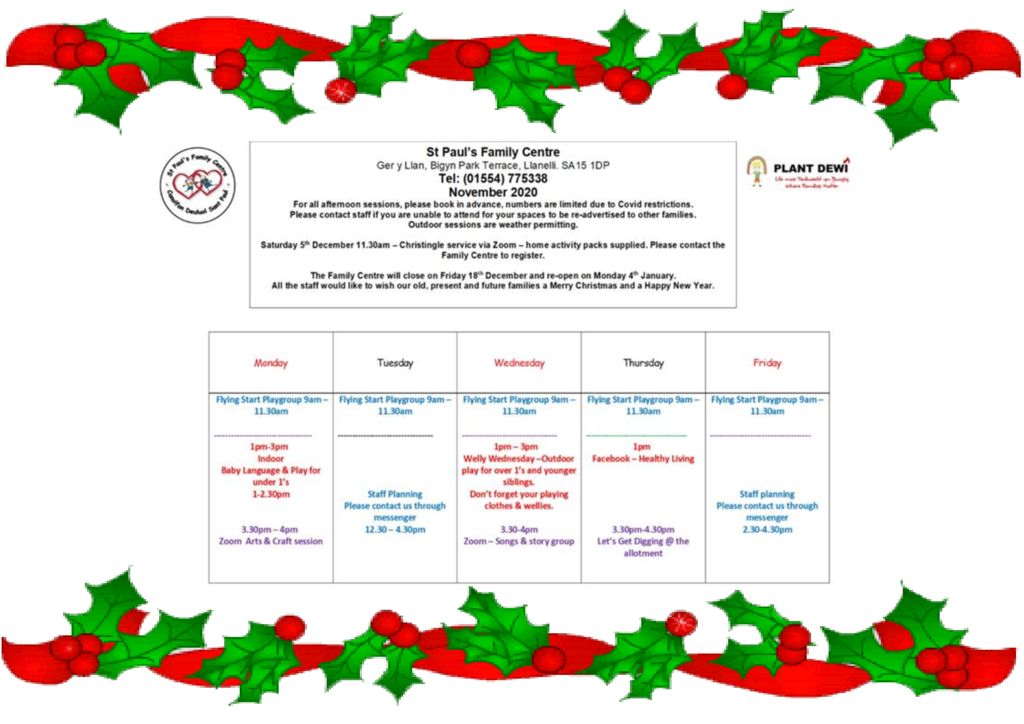 Llwynhendy Integrated Children's Centre
Off Llwynhendy Road,
Llwynhendy,
Llanelli
SA14 9DP
Tel: 01554 742203
Morfa Integrated Children's Centre
School Road,
Morfa,
Llanelli
SA15 2AU
Tel: 01554 742402
Felinfoel Integrated Children's Centre
Ynyswen,
Felin-foel,
Llanelli
SA14 8BE
Tel: 01554 742498
If you would like to contact us please complete the form below
An excellent service – keep up the good work. Thanks.