Summer Holiday Clubs
Due to COVID-19 the number of Summer Clubs running during the school holidays is limited and the capacity has been reduced.  Therefore please book early to avoid disappointment.
A list of Summer Clubs which are open are below. Please contact each provider directly to find out cost, availability and to book a place.
Meithrinfa Cywion Bach, open 3 days a week (Tuesday, Wednesday and Thursday) 01267 610345
Clwb Caredig, Nantgaredig SA32 7LG, open  3 days a week – contact Melanie 07811189029
Clwb Plant Brynaman SA18 1AH, open 6 weeks 5 days a week – contact Angharad 07968113786
Hapus Dyrfa Burry Port  SA16 0NE open 6 weeks for 5 days a week – contact Eleanor 01554 835754
Clwb y Ddwylan SA38 9BA, open 4 weeks between 27.7.20 – 21.8.20 for 5 days a week – contact Sharon 07989694056
Johnstown SA31 3HS, open 6 weeks for 5 days a week – contact Sian 01267 232830
Happy Days, Llangunnor SA312NN, open 6 weeks for 5 days a week – contact Sandra 07988893789
Swiss Valley SA14 8DS, open 6 weeks for 5 days a week – contact Nicola 07850117279
Bro Banw SA18 2NS, open 6 weeks for 5 days a week – contact Andrea 01269 595757
Penrhos SA15 2TS , open 4 weeks between 20.7.20 – 21.8.20 for 5 days a week – Contact Janet CYCA 01554 776178
Pobl Bach ELC open from 20.7.20, 5 days a week 8am – 6.30pm x 6 weeks £25 per Day including three meals and snacks – Contact Nia 01267 233244
---
Coronavirus Childcare Assistance Scheme (C-CAS)
C-CAS has closed to new entrants on 12th July (the only exception being vulnerable children).  It will be ending to existing applicants on August 31 and those parents should prepare to make alternative childcare arrangements after this date.
---
The Childcare Offer
In response to COVID-19 the Welsh Government suspended the Childcare Offer to new entrants in April in order to fund childcare for critical workers through the Coronavirus – Childcare Assistance Scheme (C-CAS).  The only children currently in receipt of the Childcare Offer are those who were in receipt of the Offer prior to the Easter Holidays.  All applications after this date were suspended due to the funding being diverted for C-CAS.
As lockdown begins to lift and the C-CAS scheme finishes, the Welsh Government are looking to reinstate the Childcare Offer.  Further information will be published as soon as we have an update from Welsh Government.  An announcement is expected in the coming weeks.
Any concerns you have regarding the Offer should be made to Welsh Government.  You can contact them by e-mail TalkChildcare@gov.wales.
Written Statement: The Childcare Offer and Coronavirus Childcare Assistance Scheme 9th June 2020
---
Looking for Childcare
Available childcare for 0-3 year olds currently open in Carmarthenshire:
Day Nurseries
Llanelli Area
Myrtle House, Llanelli (foodbank is located here to) 01554 744791
Coed Derw, Llangennech 01554 228658
Top Totz, Llanelli 01554 899789 or 07749297963 hello@toptotzdaynursery.co.uk
Brambly Hill, Llanelli, 01554 783435 hello@bramblyhill.co.uk
Cwtsh Cynnes, Penygroes, Llanelli 01269 831571, 07816 993741
Busy Bugs, Kidwelly 01554 890796, 07581865768 info@busybugsdaynursery.co.uk
Meithrinfa Hapus Dyrfa, Burry Port 01554 835754 admin@hapusdyrfa.com
Childsplay Nursery, Llanelli 01554 777936 childsplay90@hotmail.co.uk 
Once Upon a Time Nursery, Llanelli 01554 785173
Camau Tirion, Llwnhendy, Llanelli 01554 778672
Buttercup Day Nursery, Llanelli, 07565 582771 buttercupdaynurseryllanelli@gmail.com
Hwyl a Sbri Nursery, Llanelli 01554 752580 info@hwylasbri.com (opening 5th August)
Pembrey
Serendipity, Pembrey, 01554 835270
Carmarthen
Gamfa Wen, 01267 676645
Little Bambinos Cwmffrwd 01267 243442
Pobl Bach, Johnstown, Carmarthen 01267 234900
Pobl Bach, Llangunnor, 01267 233244
Meithrinfa Liliwenfach, Carmarthen 01267 469248 Meithrinfa-Liliwenfach-Nursery@hotmail.com
Glenholme Nursery, Carmarthen 01267 232830
Cae'r Ffair, Gorslas caerffair@aol.com 01269 833844
Cywion Bach Nursery, Idole, helo@cywionbach.co.uk 01267 610345
Y Cam Cynta Nursery, Peniel, 01267 236355
Ysgubor Fach, Bancyfelin eleri@ysguborfach.co.uk 01267 211611, 07432 018920

Tiny Tearaways, Carmarthen 01267 231986

Meithrinfa Plant Dewi, Carmarthen 01267 224970 meithrinfa@plantdewi.co.uk

Llandeilo
Meithrinfa Twts Tywi Nursery, Llandeilo, 01550 779039, 07772 683233 info@twtstywi.co.uk
Llanarthne
Cwtsh y Clos, Llanarthne, 01558 678014, gwenllianbeynon@live.co.uk
St Clears
Dechrau Disglair Nursery, St Clears, 01994 232844 dechraudisglair@hotmail.co.uk
Whitland
Pengwinau Bach Nursery, Whitland,pengwinaubach@gmail.com opening date  17th August
Ammanford  
Jac y Do, 01269 592226
Camau Bach, Drefach (Near to Cross Hands) 01269 844228
Lindys Bach Nursery, Betws, 07531 185338
Llandovery
Cariad a Cwtch day Nursery, Llandovery 01550 938364 cariadacwtch15@gmail.com

Llandovery College Nursery – Reopening 1st September 01550 723030 nursery@llandoverycollege.com
Teifi Tots Nursery – Reopening 31st August 01239 711721
Pontarddulais
Pitter Patter Day Nursery, Pontarddulais, Swansea info@pitterpatterdaynursery.co.uk 01792 883299
Cylch Meithrin
Cylch Meithrin Llanddarog and Cylch Meithrin Drefach 07577 648443
Cylchoedd Drefach a Llanddarog and Ffynnonwen
Cylch Meithrin Felinfoel, 01554 742499

Cylch Tre Ficer, Llanymddyfri

Cylch Meithrin Betws will run sessions from 9 – 12  x 4 days
Cylch Meithrin Felinfoel, 01554 742499 cmfelinfoel@gmail.com
Cylch Meithrin Llanerch will be re-opening on Thursday 3rd September, 2020
Childminders
A number of Childminders are open, please e-mail ChildrenInfo@carmarthenshire.gov.uk or phone 01267 246555 for contact details.
If you are still unable to find suitable childcare please e-mail ChildrenInfo@carmarthenshire.gov.uk or phone 01267 246555.
*Please note places in childcare will be highly limited
Childcare Application for Vulnerable Children
If you are a Social Worker and require childcare for vulnerable children please complete the form attached and email compete form to FSChildCareReg@carmarthenshire.gov.uk or if you have any other queries, please email ChildrenInfo@Carmarthenshire.gov.uk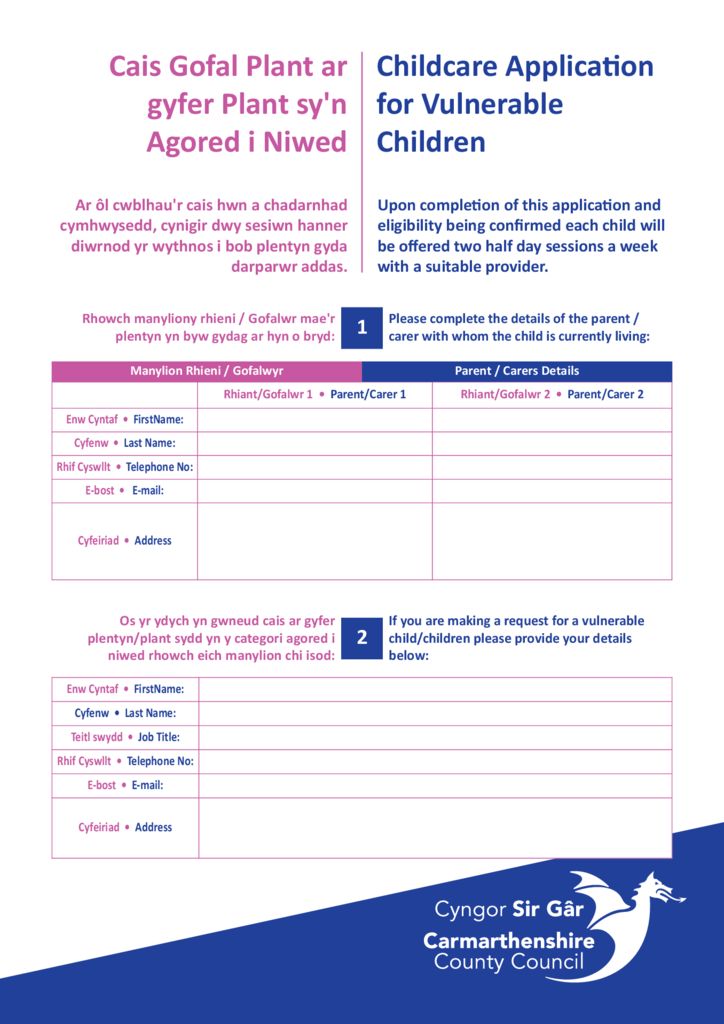 ---
Link to Dewis Cymru website
Dewis Cymru is the place for information about well-being in Wales. We have information that can help you think about what matters to you, along with information about local organisations and services that can help!
Help with the cost of Childcare
There are a number of organisations that can provide help and advice with paying for childcare.
The Childcare Offer for Wales Poster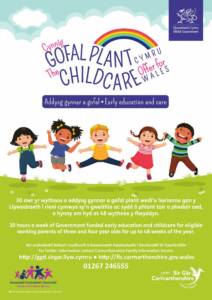 ›Help with the cost of childcare
› Child Benefit
› Tax Credits
› Other help with childcare costs – Money Advice Service
Tax Free Childcare for Working Parents