Childcare Offer Small Grant Scheme – Additional Capital Funding
Are you a Registered Childcare Provider in Carmarthenshire offering the Childcare Offer for 3 and 4 year olds? If so, you could be eligible to apply for up to £10,000 in Additional Capital Funding.
Carmarthenshire County Council have successfully bid for additional grant funding from Welsh Government for the following:
1. COVID Secure Grant:
This grant is to enable childcare offer settings to purchase additional capital items and/or to undertake physical adaptations to premises, to enable them to operate in a Covid-secure manner.
2. Childcare Offer Digital Grant:
This grant is to enable setting to purchase IT equipment to meet the demands of the Childcare Offer Digital Platform
Settings can apply for one or both grants and only one application form is required. Further information about eligible items, funding thresholds and how to apply can be found in the Additional Capital Funding Guidance and Conditions.
Please note, settings are eligible to apply if they have already received small grant scheme funding this year. However due to limited funding, applications from settings that have not received Small Grant Scheme funding previously will be prioritised. We therefore encourage applicants to submit applications promptly.
The FINAL closing date for submission is Friday 10th December.
The Grant forms and Guidance:
Please contact the Family information Service with any additional queries on 01267 246555 or e-mail smallgrantscheme@carmarthenshire.gov.uk
---
COVID-19 'survive' and 'thrive' grants now open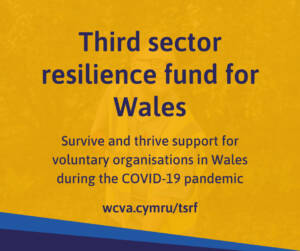 Voluntary organisations can now apply for pandemic funding through a new phase of the Third sector resilience fund for Wales.
The Third sector resilience fund (TSRF) has provided unique support to 235 voluntary organisations in Wales since April 2020. However, charities and other voluntary groups are facing existing and new challenges as they deal with the ongoing effects of COVID-19.
Now open for applications, phase 3 of TSRF offers grant funding to help voluntary organisations with the costs of surviving the COVID-19 pandemic. Grants can also be used to invest in new or additional activity which will generate a return beyond the period of funding.
About the fund
Phase 3 of TSRF is part of the £2.4m of support announced by Welsh Government. Grants of up to £50,000 are available through WCVA's Social Investment Cymru team. If the activity requires funding beyond that, there is the opportunity to apply for a loan from Social Investment Cymru if needed.
To enable a fair and just recovery in Wales, the new phase of TSRF is prioritising organisations that support people with protected characteristics, and those that have not previously received TSRF funding.
Applications are open to any eligible voluntary organisation in Wales, and there is support available to help organisations make sure they are eligible for the fund.
Survive and thrive
The fund is split into two strands:
Survive
Acknowledging that for some the impact of COVID-19 was late to take effect or become fully apparent, this strand is designed to combat any unprecedented fall in fundraising and donation income.
The fund is not about replacing the lost income – it is about providing sufficient funds to cover essential expenditure not covered by any residual income or by other supportive interventions. 'The funding of last resort'.
Thrive
Funding will also be allocated to organisations that are looking towards their future, for example to diversify their income streams or to invest in the organisation to allow growth and expansion.
The requirements will be largely the same as the 'survive' strand but will be supported by a plan and a cashflow forecast for the new activity.
Find out more and apply
To find out more about the fund, your eligibility and how to apply please visit wcva.cymru/tsrf.
Self-isolation Support Scheme
The Minister for Housing and Local Government has announced the expansion of the Self-Isolation Support Scheme to include parents and carers of children who have been asked to self-isolate. The self-isolation support scheme administered by local authorities provides up to £500 to individuals on low incomes who are required to self-isolate due to a positive test result or because they have been identified as a close contact of a positive case by  Test Trace Protect (TPP). The extension to be announced will extend the payments to parents/carers who have to care for children who are self-isolating as a Test Trace Protect (TPP) contact or as a result of a positive test.
Further information on the self-isolation support scheme is available.  Further copies or the letter are available from TalkChildcare@gov.wales
---
New start-ups in Childcare – Business Wales Barriers Grant
https://businesswales.gov.wales/business-wales-barriers-grant
---
Welsh Government's Resilience Fund
https://media.service.gov.wales/news/find-out-if-your-business-is-eligible-for-support-from-the-new-economic-resilience-fund
---
Business Wales Childcare Grant
Business Wales are offering childcare providers in Wales the opportunity to apply for a Childcare Grant. The purpose of the grant is to encourage the creation of new childcare places and new places for children with additional or special needs in Wales to support the Welsh Government's 30 Hour Childcare Offer.
How it works
Only childcare providers based and registered in Wales are eligible to apply.
For those who are developing their business and have not yet started trading, they can still apply for a Grant but the monies will not be paid until they are registered with CIW.
The Grant will only be paid where there is a recognised need for additional childcare places in the locality of the provision.  This will be confirmed via the appropriate Local Authority.  Where funding is limited, priority will be given to childcare providers within the current Childcare 30 Hour Offer of funded childcare to three and four-year olds in Early Implementer Local Authority (EILA) areas.  Payment of Grants is subject to ongoing funding availability.
For more information:
To find out more and to get an application form, please call the Business Wales Helpline on 03000 6 03000 or speak with your local Business Wales team @ Carmarthen 01267 233749.