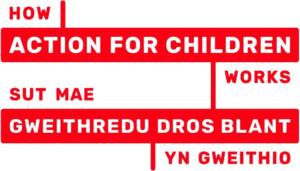 Action for Children aims to give children, young people and families the chance to fulfil their potential and to make the most of their lives.
In Carmarthenshire, Action for Children provides a range of parenting programmes that offer practical tools, skills and information to help parents with children or young people aged 0-19.
Parenting programmes including Handling Children's Behaviour , Getting to Know your Baby , Family Links Nurture Programme (3-11 years), TAKE3 (13-16 years) and  Living with Teenagers.
A Systemic Therapist and a Play Therapist works with families and/or children with complex needs
Action for Children can also support parents who have separated to help improve co-parenting of a child.
Phone for more information: 01554 745150