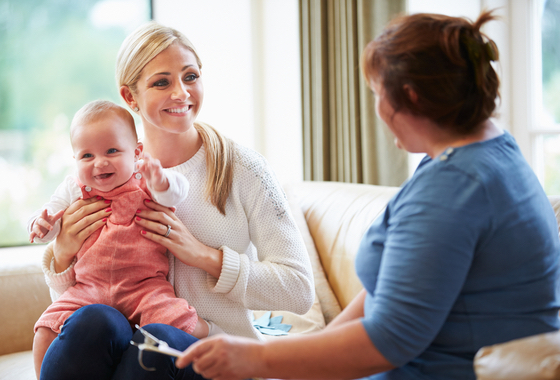 Health Visitors are Public Health nurses. They work with families to promote good health and to prevent illness. Families are allocated a Health Visitor 10-14 days after the birth of a new baby up to the age of 5 years old.
The Healthy Child Wales Programme identifies key Health Visitor contacts for families:
A birth visit at 10 -14 days after your baby is born.
Primary immunisations at your family surgery at 8, 12 and 16 weeks old.
A home visit will also be offered between 8 -16 weeks.
Home visit at 6 months
Scheduled immunisations at 12-13 months old.
All children in Wales have a developmental assessment at 15 months old.
All children in Wales have a developmental assessment at 27 months old.
Pre-school immunisations at 3 years and 4 months old.
At 5 years old your child's health record will be handed over to the school nurse
During the Health Visitors visits they will assess babies growth and development and advise about key, health enhancing issues such as Immunisations, infant feeding, weaning, oral care and home safety.
They also run regular drop in clinics which you can access between home visits.
Cwm Gwendraeth Health Visitor Clinic times:
Monday 1.30pm – 3.30pm in Sarn Surgery, Pontyates
Tuesday 9.00am – 11.30am in Cross Hands Health Centre (Tumble Health Visitor Clinic); 11:30am – 1pm for Booked 'Drop In' Appointments
Wednesday 1.30pm – 4.30pm in Coalbrook Surgery, Pontyberem
Thursday 9.30am -12.30am in Cross Hands Health Centre (Cross Hands/Penygroes Health Visitor Clinic)
Immunisations
One of the best ways to protect your child against diseases like measles, rubella, tetanus and meningitis is through immunisation. Please click here for the immunisation schedule for your child.
Home Safety
Thinking about home safety is an important way to help keep children safe and well. For parents, this means being aware of risks which could cause injuries to children, and then employing strategies to help prevent them. For example, using stair gates, keeping medicines in a locked cabinet, or storing dangerous chemicals such as cleaning fluids in high cupboards. The most important strategy to use in keeping children safe is supervision or being in close proximity to your child as they play, explore and learn. Your Health Visitor will discuss home safety with you at key contacts, such as when children are starting to move around more (around 6 months), but they may discuss it at any visit and you can ask for advice at any time.
Families in Carmarthenshire are also offered a free home safety check from the Mid and West Wales Fire and Rescue Service. They will come and assess the fire risk in your home and will also install a smoke alarm, free of charge. Your health visitor can make this referral for you, but you can also contact them directly at Home Safety Check
Oral Health
Tooth decay is the most common oral disease affecting children in the UK. It can affect the ability to sleep, eat, socialize and even speak. Luckily with good oral care, tooth decay is almost always preventable.
Because oral health is so important, Health Visitors work with the Welsh Government funded oral health improvement programme called 'Designed to Smile'.
To learn more about Design to Smile click it here
Breastfeeding Information
Association of Breastfeeding Mothers
The Association of Breastfeeding Mothers (ABM) is a voluntary organisation and supporting mums and families, offering training and speak for breastfeeding families at a national advocacy level.
The website during the COVID19 pandemic has free resources available
Bump Baby and Beyond
"Looking after yourself and your baby throughout your pregnancy and beyond." Public Health Wales. For Bump Baby and Beyond e-Book version 2 click here
Weaning Recipes & Meal Ideas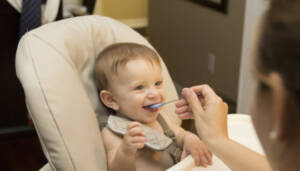 Weaning is when you introduce your baby to solid food alongside breast milk/formula. Weaning teaches your baby how to move solid food around their mouth, chew and swallow solid foods.
Ideas for types of foods to try with your baby  (https://111.wales.nhs.uk/livewell/pregnancy/Weaningsolidfoods/)
Start with single vegetables and fruits
Mashed or soft cooked sticks such as parsnip, broccoli, potato, yam, sweet potato, carrot, apple or pear.
Take a look at, NHS Wales, Start 4 Life and NHS England for some great weaning tips
Here are some other links
Childrens bowel and bladder problems
A great website for information on Children's bowel and bladder problems including Potty Training, nighttime wetting and day time bladder problems
The Children's Bowel & Bladder Charity
Potty Training Guide
Parenting. Give it time.
Parenting is the hardest job in the world and we all need some advice and support sometimes, check out the Parenting. Give it time. website for helpful hints and tips to help understand your child's development and managing challenging stages.
Start for life
Start for life, a Trusted NHS help and advice during pregnancy, birth and parenthood