Children aged 2-3 years

, living in Flying Start areas are entitled to funded childcare for 12.5 hours per week, (two and a half hours per day), Monday to Friday for 42 weeks of the year.

Childcare is provided from a range of mostly centre-based childcare facilities, including private day nurseries, Family Centres, Playgroups and Cylchoedd Meithrin.

The focus of the funded childcare place is on the child and in particular t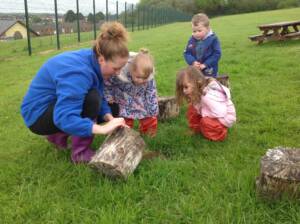 o ensure that all children have opportunities to develop their language, social skills, emotionally, physically in order to be ready to begin school, within a secure and safe childcare setting.  In order to achieve this, each setting partakes in the completion of Foundation Phase Profiles and (FPP's) Strength and Difficulty questionnaire (SDQ's), which tracks each child's developmental progress.
We have 25 childcare providers made up of Local Authority, Private and Voluntary Settings throughout Carmarthenshire that are funded by Flying Start.
Trimsaran/Carway
West Llanelli
Hapus Dyrfa Dechrau'n Deg, Burry Port School
For more information on childcare, contact us on 01554 742447